If you're looking to take your DIY projects to the next level, a chop saw is an essential tool to have in your toolbox. As an avid DIYer, I can personally attest to the power of a good chop saw. Not only can it make quick and precise cuts on wood, metal, and other materials, but it also has the potential to save you time and money.
The best part about a chop saw is its versatility. It can be used to make straight and angled cuts, as well as cuts of different depths, all with precision accuracy. The saw also offers a wide range of blade sizes and can be adjusted to make different types of cuts. With the right blade, you can even use it for trimming and shaping.
Using a chop saw is a simple process, even for beginners. It's easy to set up and operate, and the saw can be used safely and effectively if you follow the manufacturer's instructions. Whether you're a professional carpenter or a weekend warrior, you'll quickly learn to appreciate what a chop saw can do.
The 3 Best Chop Saw Reviews
Metabo HPT 10-Inch Miter Saw | Single Bevel | Compound
If you're looking for a powerful and lightweight miter saw, the Metabo HPT 10-Inch Miter Saw is a great choice. The 15-amp motor delivers high power to get even the toughest of cuts done quickly, generating a no-load speed of up to 5,000 RPM. It's also lightweight, weighing only 24.2 lbs., so it's easy to maneuver and transport.
The miter angle range is 0-52 degrees to the right and left for increased flexibility and the bevel range is 0-45 degrees to the left with adjustable bevel stops for precision cuts. The large table offers better material support, and the vice clamping system helps secure the work piece. Plus, the thumb actuated positive stops make quick miter adjustments a breeze. There's also a horizontal handle for a secure hold and an electric brake that halts the rotation of the blade within seconds, preventing unintended cuts.
PORTER-CABLE Chop Saw
If you're looking for a reliable and durable chop saw, the PORTER-CABLE Chop Saw is a great choice. Its 15-Amp motor runs at 3,800 RPM, so you know you're getting a powerful machine. The quick-release material clamp makes it easy to cut and remove the material, and the cutting fence with miter adjustment allows you to cut up to 45 degree angles. And for added safety, there's a spark deflector that provides a clear line of sight for cutting.
DEWALT 12-Inch Miter Saw
The DEWALT 12-Inch Miter Saw is a great choice for anyone looking for accuracy and precision in their projects. The stainless-steel miter detent plate and 14 positive stops offer an impressive level of precision, while the tall sliding fence provides a sturdy base for even the largest projects. Additionally, the 0-48 degree bevels to the left and 0-3 degree bevels to the right make this saw incredibly versatile. With a 2-inch x 8-inch dimensional lumber cross cut capacity at 90 degree and 2-inch x 6-inch dimensional lumber at 45 degree, you can tackle a wide range of projects.
The only downside I can think of is that the tool height of 15 inches may be a bit too tall for some people. Other than that, the DEWALT 12-Inch Miter Saw is an excellent choice for anyone who wants accuracy and precision in their projects.
Buying Guide
Chop saws are an essential tool for any DIY-er or professional carpenter. Not only do they make precise cuts with ease, but they can also be used to safely and quickly cut through a variety of materials. When it comes to buying a chop saw, there are a few things to consider.
First, think about the type of materials you will be cutting. Different saws are suited for different types of materials, so it's important to choose the right saw for your needs. For example, if you're cutting through metal, you'll need a saw with a carbide blade that can handle the job. On the other hand, if you're just cutting wood, a circular saw will do just fine.
Next, consider the size of the chop saw you need. Some saws are designed for smaller cuts, while others are made for larger projects. If you're going to be doing a lot of cutting, a larger saw is probably a better option. It will allow you to make more precise cuts and will be able to handle larger pieces of material.
Finally, think about the features you need. Some saws come with adjustable arms, so you can make a variety of cuts with one saw. Others have a variety of speeds and cutting depths, so you can adjust the saw to suit the job at hand. Make sure to look for a saw with the features you need to get the job done right.
When it comes to buying a chop saw, there are plenty of options available. Whether you're looking for a saw for small projects or larger ones, make sure to consider the type of materials you'll be cutting, the size of the saw you need, and the features you need in order to get the job done right. With the right saw, you'll be able to make precise cuts quickly and easily.
Top Picks: A Comparison of Our Recommended Products
1
Editors Pick

TV Score Our experts have created the 'Toolzview Score' to rank products from 0 to 10 based on collected data. This score is completely unbiased and not influenced by any manufacturer or sales agent websites. ( Read more )

Brand

Metabo HPT
2
Budget Friendly
3
4
5
6
7
8
9
10
Frequently Asked Questions
What is a chop saw?
A chop saw is a tool used for making quick, accurate cuts in wood, plastic, or metal. It typically consists of a base and a motorized, circular blade mounted on an arm that can swing to make angled cuts. Chop saws are great for DIY projects, construction, and other types of carpentry.
How do i use a chop saw safely?
To use a chop saw safely, always wear eye protection and make sure the area where you are cutting is clear of any obstacles. Secure the material you are cutting firmly on the saw's table. Check to make sure the saw blade is sharp, properly aligned and not cracked. When using the saw, let the blade do the work and don't force it. Keep your hands and body away from the blade at all times and turn off the saw immediately after use.
What types of materials can i cut with a chop saw?
You can cut a variety of materials with a chop saw, such as wood, plastic, metal, and masonry. Depending on the blade you use, you may be able to cut through hardwood, aluminum, steel, and other more durable materials. Be sure to check the owner's manual to make sure the material you're cutting is compatible with your saw.
What is the best blade size for a chop saw?
The best blade size for a chop saw depends on the material you are cutting and the finish you need. Generally, a 10-inch blade is most commonly used for cutting wood, while a 14-inch blade is better suited for cutting metal. If you need a finer cut, choose a smaller blade. For more precision and power, go with a larger blade.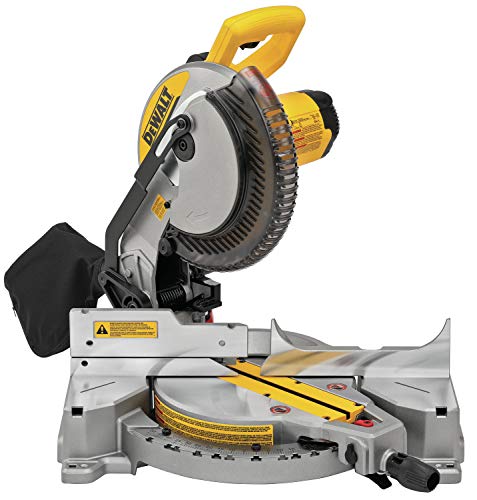 Conclusion
Overall, the chop saw is an incredibly useful and versatile tool that can help you tackle any job with ease. It doesn't matter if you're a seasoned pro or just a beginner – the chop saw is the perfect tool for any job. With its adjustable blade, you can make precise and consistent cuts, no matter the size or shape of your material. Plus, the safety features make it easy to use for everyone. So, if you're looking for a great tool to help you with your next project, you can't go wrong with a chop saw.
Last update on 2023-09-21 / Affiliate links / Images from Amazon Product Advertising API