Whether you are thinking about trimming downed trees, pruning in the garden or just clearing the unwanted bushes around the home, investing in the right bow saw should be the starting point.
As the name goes, a bow saw takes the shape of a bow to guarantee maximum user comfort.
Unlike the chainsaws that handle large cutting projects, bow saws are specially designed to meet light to middle cutting needs and do not come along with energy costs.
However, for the best user experience, you need to go for a top-quality unit. In this article, we have combined the best bow saws for your upcoming project!
12 Bow Saw Reviews
#1 Bahco 10-24-23 Bow Saw
With just 1.65 lbs of weight, this is among the most lightweight options you will find in the market. Although lightweight, the bow is heavy duty hence perfect for the high demanding environments such as the construction sites. The high-quality bow saw features an advanced tensioning system that guarantees you with straight cutting.
Ergo Handle
Whether you want it for everyday use or occasional use, you need to ensure that the bow saw you choose is ergonomically designed. And yes, Bahco 10-24-23 bow sow is one of the options that come with a humanized designed. The ergo handle of this saw features a knuckle protector promise hours of comfortable and smooth cutting.
Pointed Nose
Another amazing feature you will like about this unit is that it comes with a sharp nose. This design gives you better access to confined spaces making it ideal for roofing and gardening applications.
Innovative design
The advanced tensioning mechanism ensures that premium-grade blade remains tight when in use for straight and smooth cutting. The triangular teeth of the saw are hardened and sharpened using the state-of-the-art precision tooling to ensure aggressive cuts in every pull or push. The pack comes with replacement blades that suit all your cutting needs.
Pros
The blade is rust resistant.
It is lightweight for hours of use.
The unit is budget friendly.
Cons
The quality of the Snap-On blade guard doesn't match that of the unit.
#2 Agawa Canyon – BOREAL21 Bow Saw
Whether you are a serious camper, a dedicated backpacker, or maybe find pleasure in canoeing, hunting, and clearing the trail around your home, this high-quality bow saw is constructed to allow for versatility. The high-quality trapezium frame means that you can use the saw for bigger cuts.
Foldable Design
To allow for portability, this saw easily folds when not in use for safer and more convenient transportation and storage. The simple opening mechanism effortlessly unfolds the unit in seconds whenever it is time to take on a challenge. Just unfold the cutter, snap into position and you are ready to go!
Automatic Blade Tensioning
Agawa Nylon BOREAL21 Bow Saw also features a simple blade tension system that guarantees user safety. The tensioning system allows you to fold and unfold the saw without coming into contact with the blade. Sawing has never gotten this safer before!
Portable Design
With just 480 grams of weight, carrying this bow saw to where you need is less tedious. Also, the ability of the tool to fold means that it will nest nicely into your backpack and still leave a room for the remaining pieces of gear. The compact design makes storage more convenient and renders the saw an ideal option for those that cannot afford much storage space.
Pros
The safe design means that you can operate without ever touching the blade.
It folds up tight for smooth cutting.
It is perfect for backpacking.
Cons
The auto-snap may startle those around.
#3 Gardena 8747 Bow Saw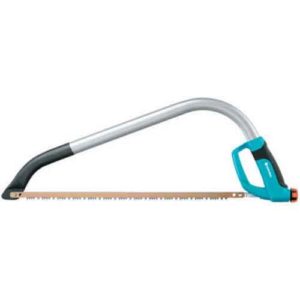 Gardena 8747 bow comes is light yet a sturdy tool that is specially designed for a yard, garden, and orchard work. With just 1.7 lbs, this high-quality bow saw comes with a lightweight design that gives you an easy time when working on taller branches. Also, the 21-inch blade offers versatility since this length suits a wide range of applications.
Tapered Nose
Gardena 8747 comes with a sharp nose that allows you to easily saw in the hard-to-reach areas. In other words, this tool would be a great option for dealing with thick bushes, roofing, and other tight spaces. The nose features a matte finish and can double up as an extra handle when dealing with a job that requires more stable strokes.
High-Quality Blade
The blade defines the durability of the bow saw and the range of activities it can handle. This bow saw is equipped with a hardened and rust-proof blade for maximum durability and versatility. The blade features fine teeth that make cutting wood or any other piece easy and quick.
Screw-Knob Mechanism
This feature allows you to easily customize the tension on the blade depending on the type of work you are doing. This property also makes it more straightforward to change the blades even wthout tools.
Pros
The knuckle guard ensures safety.
It comes with robust construction.
The handle offers comfort.
Cons
It is slightly more costly.
#4 Magic Handsaw Set
If you are looking for a versatile bow saw, this is one of the best options you may consider giving a try. Magic Handset Bow Saw suits a wide range of applications such as construction, pruning, decoration, fishing, camping, and many other activities. The package comes with five small teeth blades that meet different cutting needs. The pack also contains an instructional manual for the sake of the beginners.
Handy Case
Obviously, the more the accessories the unit has, the higher the chances of misplacing or forgetting a part when going out. With this in mind, this bow saw comes with a convenient carry case for secure storage and transportation. The case features slots that keep the plentiful extras arranged for easy access.
Multifunction
Another fantastic feature that you will love about this bow saw is the versatility. The saw allows you to adjust the side of your cutting and gives cleaner cuts regardless of the cutting direction. The unit comes with hacksaw and wood saw blades that suit bamboo, wire, glass, soft metal, stainless steel, stone, ceramic, general wood, and many other materials.
Convenient Design
This bow saw also features an ergonomic handle that resists slipping by offering a comfortable grip. Furthermore, changing the blades of this unit is quick and more straightforward to help save time.
Pros
The case offers space for each piece for centralized storage.
The manual provides lots of information on how to use the saw.
The case is durable.
Cons
Works best for the lighter duties.
#5 Bahco 10-21-51 21-Inch Bow Saw
This heavy-duty bow saw comes with an ergonomically-designed ergo handle for user comfort. Although the unit is made with portability in mind, it comes with heavy-duty frames that suit tough applications. The precise tensioning delivers smoother cuts and saves on time.
Variety of frame sizes
If you want a saw for cutting larger pieces of material, ensure that you choose a saw with a larger frame that allows for enough cutting space. This bow saw is available in three different frame sizes; 21″, 24″, and 30″ to help save on time.
High-Quality Blade
The blade of this bow saw is constructed from a durable steel material. The premium-quality material suits different cutting needs to render this bow saw a versatile option. Besides, the steel material will not catch rust to maximize the durability of the unit.
Triangular Teeth
The teeth of this bow saw feature a triangular shape and are hardened to ensure aggressive cuts. The hardened teeth will not lose their sharpness quickly like some of the conventional models. Furthermore, to get the best out of the teeth, this saw uses an automatic tensioning system that ensures a tighter blade for sawing experience like no other.
Pros
It is portable.
The ergonomic handle ensures user comfort.
The steel blade is durable.
Cons
The saw doesn't come with tensioning instructions.
#6 Truper 30255 Bow Saw
This bow saw also comes with a sturdy frame that is also lightweight. The innovative Cam-lever tension system ensures that you get a high-quality cut when sawing by ensuring a tight blade when working. The sharp blade means that you will get the work done in no time.
Easy Maintenance
The teeth of this saw do not become dull easily to ensure durability. For years of trouble-free service, the manufacturer recommends that you oil the pretty decent blade after every use.
Easy to use
Although it may not qualify as the best model on the market, it is among the top-rated models that are easier to use. In other words, whether you have used bow saws before or not, this unit doesn't require any professional training to get the best out of it. All you need is to read the user manual that comes with an easy-to-understand language.
Versatile
The 21-inch blade is the right size for tackling the larger branches and other heavier cutting needs. However, just in case this doesn't seem like the best size for your needs, this high-quality model is also available in two other larger sizes measuring 24 inches and 30 inches.
Pros
The blades come already sharpened.
It is a high-quality low-budget option.
It comes with a knuckle protector.
Cons
The rivets are not of the best quality although they are replaceable.
#7 Irwin 218HP300 Bow Saw
Irwin 218HP300 features a sharp blade that will cut through medium-sized branches with relative trees. The bow saw comes with a top-class frame that provides excellent stability when sawing to ensure optimal performance. The sturdy frame is also lightweight hence you can carry it from place to place easily. The lightweight property makes the bow saw an excellent option for campers and hikers especially those that take long journeys more often.
Multi-purpose Blade
Most of the blades out there are specially designed for cutting specific materials. For example, some blades suit green branches better than metal and dry wood. However, when it comes to this model, it features a versatile blade that delivers professional results regardless of whether you are cutting a metallic object or wood.
Deep Throat Design
Since the unit is designed for cutting larger objects, it features a deep throat design. The innovative design provides enough allowance for the saw when cutting large metals or water pipes to make the process quicker.
Non-slip Handle
The handle of this cutter is designed to offer excellent grip when cutting to allow for hours of comfortable use. Furthermore, the design of the handle allows for easy changing of blades whenever there is the need. The unit comes fully assembled so that it can begin the work straight out of the box.
Pros
The blade doesn't flex while cutting.
The blades are very sharp.
The frame is of premium tubular steel.
Cons
The blade is only 12 inches long hence won't be the ideal option for those that need longer blades.
#8 Great Neck Saw BB21 21″
If you are a DIY enthusiast operating under a small budget, this bow saw is designed with you in mind. In fact, you will hardly find a better deal on the market. The bow comes with a 21-inch blade that is engineered to cut through nearly any material with ease.
High-Quality Construction
This blade is constructed from high carbon steel to ensure that it remains tight when cutting. The bow is constructed from premium-grade steel alloy material that will also not flex when cutting hard material. With such construction, we can safely claim that this cutter stands the test of time.
High Rust Resistance
Steel will naturally corrode when exposed to water and oxygen. And yes, the case is no different in some of the steel bow saws in the market. With this in mind, the steel material of this saw is treated to offer high resistance to corrosion so that you enjoy years of service.
High-Quality Teeth
The quality of the teeth is what defines how fast you can cut an object. The teeth of this unit maintain their sharpness for long making maintenance easy and less costly since you won't incur the cost of buying a replacement as you would have when using some of the models.
Pros
It is a budget-friendly option.
The saw is portable.
The high tension mechanism makes cutting quicker.
Cons
It only comes with a single blade.
#9 Sven Bow Saw
For the backpacking and serious campers, here is yet another reliable that is worth giving a shot. The bow comes with a top-grade Swedish blade that guarantees years of quality service. Also, the super sharp teeth of the saw cut through small branches or trees with minimal effort.
Aluminum Frame
The bow is constructed from aircraft grade aluminum material. In other words, the frame offers exceptional strength when cutting unlike some of the models that flex. The aluminum frame safely accommodates the blade when not in use to keep you and your backpack safe from accidental cuts.
Lightweight
If you spend longer time cutting, this saw would be an ideal option for you. The 21-inch cutter weighs only 1.5 pounds to suit more hours of use. This also means that you can easily carry the unit around the garden.
Two sizes
Although this specific cutter is 21 inches, the USA-made saw is also available in a smaller size measuring 15 inches. The size varieties will ensure that you find that ideal size for your project. Apart from size variation, all other features remain similar.
Pros
It cuts almost effortlessly.
It is easy to put together and disassemble.
The blade maintains sharpness for long.
Cons
The blade can only tighten to a certain maximum point.
#10 Filzer Buckster Bow Saw
This bow saw comes with an orange color that is not only aesthetically pleasing but also highly so that you will never misplace it. The tool also features a foldable design that allows you to fold it down to s smaller size for travel. The ability to fold means that it will be a good option for any adventurer who doesn't want to lug an extra large model all along.
Ideal Size
This saw is neither too small for handling large projects neither too large to compromise on portability. The saw measures 18 inches, which is just the ideal size for sawing logs for campfires when you are in an adventure.
Replacement Blades
Even with the highest quality blade, there will always come a time when you want to replace it with a new one. And yes, Filzer Buckster Bow Saw is designed to allow for easy changing of the blade. Furthermore, its replacement blade is readily available in the market.
Rugged construction
An aluminum frame complements the 18-inch serrated blade. The aluminum frame offers exceptional strength to the saw when keeping the weight at 1.3 lbs for hassle-free transportation. The frame also offers high clearance that allows the saw to cut logs of up to 13 inches in diameter.
Pros
It is tremendously lightweight bow saw.
It offers greater height clearance than other most models.
The design is great.
Cons
No third party replacement blades which mean that you have to buy them from the manufacturers which are quite costly.
#11 Gilmour 21-Inch Bow Saw
No products found.
If you are looking for an occasional bow saw for use in the garden, going by this option would be a good idea. The bow saw falls in the category of the low-budget yet quality options.
Self-Adjusting Tension System
This bow saw uses the auto tensioning mechanism to keep the blade tight for optimized user experience. The auto-adjustment design eliminates the need for manually adjusting the blade to increase the overall efficiency of the saw and minimize the chances of making an error.
Value
As aforementioned, this unit goes for a relatively lower price as compared to other bow saws of the same caliber. The reduced price suits people working under a fixed budget while the quality construction guarantees to get the job done correctly in no time.
High Clearance Height
The open throat design of the bow means that this unit can be used for cutting larger branches or trees since it provides the much-needed clearance. This design pairs with the precisely sharpened teeth to allow you to work on your projects faster.
Pros
The height is adjustable.
It is perfect for occasional use.
It is affordable.
Cons
The handle doesn't offer the perfect grip.
No products found.
#12 Agawa Canyon – BOREAL21 Bow Saw
Just like the predecessor, this bow saw is among the high-quality saws that guarantee you with years of trouble-free service. The blade neatly folds into a frame for a smaller size that allows for easy transportation and convenient storage when not in use. The top-quality blade is specially designed to provide smooth and straight cuts on every attempt.
Rust-Resistant Blade
When buying a saw, one of the critical parts you need to pay much attention is the blade. Actually, if you have used saws before, you will notice that some edges catch rust with time. However, the blade of this bow frame is designed to offer high resistance to rust even with prolonged outdoor use. This feature helps to extend the service life of the saw so that you don't find yourself in the market anytime soon hunting up a new model.
Safe Design
Just like the preceding model, this unit also features an automatic tensioning system. This mechanism eliminates the need for touching the blade when folding or unfolding the saw. In other words, we won't be wrong to claim that this unit is designed with your safety in mind.
Compact Design
The ability of this saw to fold when not only offers protection to you and your gear but also leaves some space on your backpack for the rest of the gear. This design also guarantees that it will not take much space when not in use.
Pros
The blades are durable.
It is easy to assemble.
Snapping together is easy.
Cons
It doesn't come with replacement blades.
Frequently Asked Questions
What are bow saws used for?
Bow saws are widely used for trimming and pruning purposes. However, it can be used for other purposes such as pipe working, metal and bone cutting.
What is the best bow saw for cutting trees?
Answer: Majorly, the bow saws are designed for handling light and medium sawing needs. Based on my research, the Bahco Bow Saws offer better services than other models since they are sharper, ergonomic, more lightweight, and have a better tensioning mechanism.
How do you know the right bow saw for you?
Answer: When choosing a bow saw, pay attention to the construction, the quality of the blades, the ease of use, and the tensioning mechanism. Also, ensure that the bow provides enough clearance height that can suit the target projects.
Verdict
Of all the reviewed models, the Bahco 10-21-51 21-Inch Ergo Bow Saw remains our favorite.
What makes it a standout from the other Bahco models is that it is rightly sized to handle a broader range of projects without compromising on other essential factors such as portability and comfort.
Last update on 2023-09-30 / Affiliate links / Images from Amazon Product Advertising API