Layla mattresses feature both memory foam as well as hybrid-based mattresses. Their manufacturing processes with advanced technology give their products a splendid finished product. Their copper memory foam mattress provides the most extravagant feeling, which offers more comfort than a typical one, along with a cooling effect.
In this competitive market, Layla Mattress is one of the most preferred brands than other similar products because of its prominent and contemporary outlook. If you are thinking to purchase a new mattress for your bedroom or change of the existing one, Layla should be your one-stop purchasing option.
To know more about the brand in detail, continue reading the complete Layla Mattress Review. For a thorough idea of the brand, there is the inclusion of its components, features, customization, and much more. Without any more delay, let's get started.
Brand Outline
Established in 2016, the United States-based company Layla has come a long way since then. Over a while, it captured the market. Presently, it has become one of the leading destinations of shopping for bedding and accessories. Along with mattresses, they also offer bed platforms, bed sheets, pillows, blankets, and other accessories, to name a few.
However, we shall concentrate on the mattress that the brand Layla manufactures in this review. Along with its features, we shall also throw some light on other competitors to prove which is better in terms of quality and comfort. Let us first examine the components that make up the well-known Layla Mattress and what makes it so desirable.
Classification of Layla Mattress
As previously stated, the brand offers two different varieties of mattresses. The details of each are as follows:
Memory Foam Mattress
This type of mattress manufactures with the combination of memory foam with support foam. It provides maximum support to the body. The word 'memory' arises for its unique quality. The removal of pressure from the mattress will take back its original shape in a slow-motion and gradually return in its original form.
Layla's dual side flip mattress has one firm and the other as the soft side. However, irrespective of its placement on a bed, it shall provide the utmost comfort.

Layla Memory Foam Mattress
A Soft and Plush Feel
Rapid Cooling and Body Heat transfer
Variable Support for Deep Compression Areas
Antimicrobial Odor Control with Copper
Check Latest Price
Structure details:
Both the soft and the firm sides of the mattress have the same elements on each side. Above the layer of copper infused memory foam, lies the high-density polyfoam. Above which there is a layer of poly foam followed by another layer of copper infused foam. It is a 4-layer structure.
The uppermost cover is made-up of thick polyester material. The fabric is smooth and breathable that provides satisfaction.
The firm side of the mattress with the polyfoam is 4" high, and the copper-infused foam is 3" high.
One side of the copper-infused memory foam has a moderate feel of softness, which, when measured on the scale, gives a rating of 4. The other side of the copper lining provides a firm feeling of 7 scores on the firmness scale. Due to the right amount of firmness in it, it gives an intimate and pleasant experience.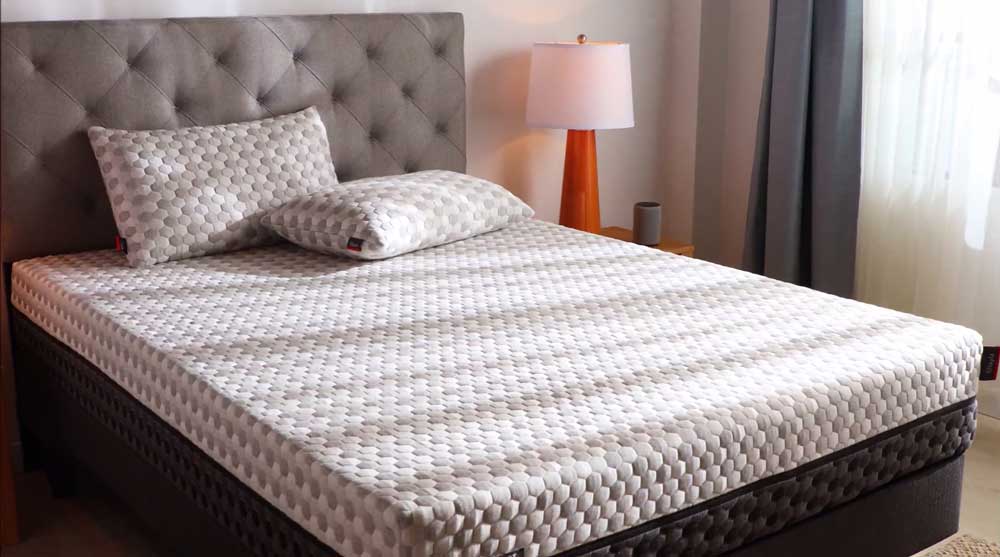 Beneficial Characteristics
The following characters of the mattress make it preferable for people who are looking for:
Excellent support to the body:
Memory foam shapes are perfect for aligning the spine with the head and neck. This provision of personal comfort increases its demand.
Reduction of pressure:
This type of Layla mattress distributes the body weight evenly, resulting in relieving the pressure points. It, in turn, minimizes body aches and encourages the uniform flow of blood while lying down.
Minimizes motion:
In other traditional mattresses, one quickly gets disturbs when another person on the same bed moves. But in a memory foam mattress, one can soon achieve non-disturbance even if the other person is tossing from one side to another. 
Mite resistant:
Because of its material, dust and mites cannot pierce through it, thus, an excellent option for highly sensitive skin individuals, providing relief from sleepless nights.
Heat resistant:
The copper infused memory foam mattress does not heat the body and keeps it fresh due to copper present in it.
Pathogen free:
The mattress does not let the accumulation of dust and dirt, resulting in the anti-microbial property. It is another quality of copper incorporated in it. Thus, preventing the growth of illness-causing pathogen on it.
What type of sleepers will choose each side?
People who have pain in hips and joints, especially in the pressure points, can use the softer side to provide support to the back of the body. Side sleepers can prefer this side of the mattress for a hugging-feel.
Likewise, the firm side will be comfortable for individuals who prefer sleeping on their backs. Similarly, it will be enjoyable for those who have a habit of sleeping on their stomach.
Layla's Hybrid Mattress
It is the latest inclusion of the brand whose manufacturing technique combines two different components. These are:

Layla Hybrid Mattress
2 FREE PILLOWS
Infinity Edge™ Individually Wrapped Coils
Pocket Coil perimeter for superior edge support
6″ Layer
Characteristics of a hybrid mattress
In simple terms, a hybrid mattress has both coils as well as memory foam infused together. They consist of a higher amount of foam, and its upper part is much flat and has a smooth surface than the memory foam mattress. On shifting from a memory foam mattress to the hybrid ones, people will gradually feel the difference. They give a mixed feeling of slow-motion as well as the bouncy touch.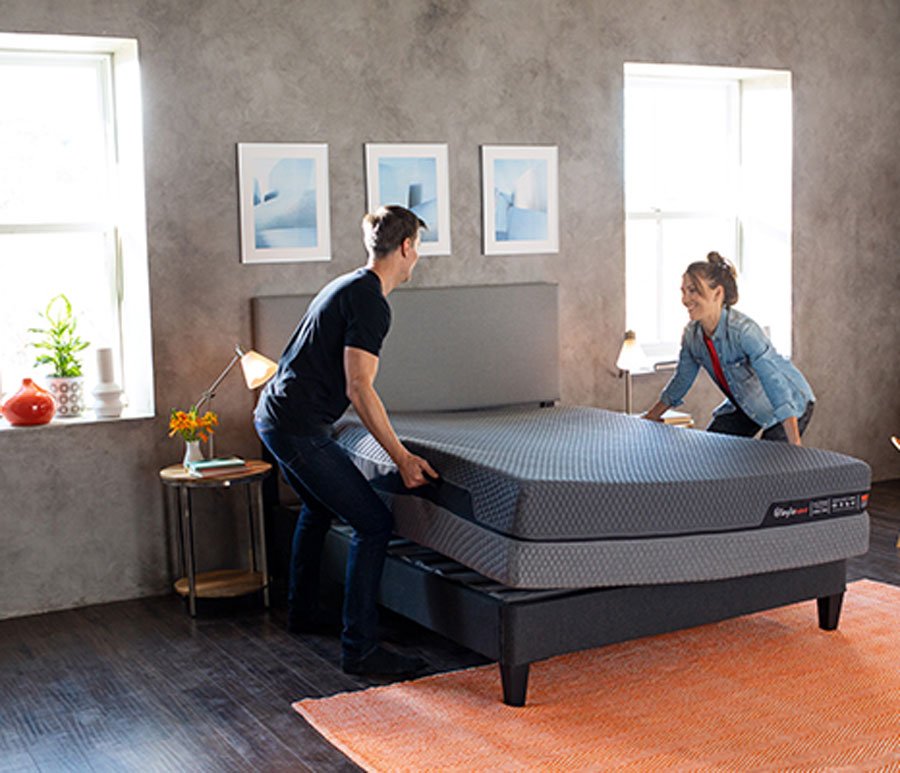 Who will choose a hybrid mattress?
People looking for better positioning of the body can surely go for a hybrid mattress. If you are already using traditional innerspring mattresses and want to change it to get a unique feel, go for a hybrid mattress. Although it is a bit expensive, you will receive quality assurance and value for your hard-earned money. Beware of other companies who call the usual beds as hybrid too. So, before you invest in any other product, do your research thoroughly. Layla hybrid mattresses are the brand that you can trust.
Summary of testing:
Test a mattress before purchase; few important tips must be kept in mind. These tips for testing Layla's mattresses are as follows:
While buying beddings and accessories, one must approach an established brand that already has loyal customers. In this aspect, Layla mattress is sought after and has a lot of happy customers.
Every individual has their style of sleeping; some side sleepers, some are stomach or back sleepers. Layla Mattresses serves all the variety of sleepers with their personalized production.
Since many people suffer from back and lower back pain, shoulder and other body aches, the products of Layla keep these factors in mind so that the people suffering can get relief of pain and have a tight sleep.
Many people complain about disturbance due to motion transfer of another person in the same bed at the same time, the mattress of this brand pays particular focus in this category. The hybrid mattress is the option for people with sleepless nights due to movements. However, the uppermost layer of memory foam also serves this category to some extent.
Who is more inclined to purchase Layla Mattress?
As the mattresses of this brand are easily customizable as per customer preference, people tend to prefer investing in it. The flipping nature of the bedding from one side to the other gives it more attraction. One can quickly flip it around from soft to firm bottom as per requirement.
There is no need to invest in another mattress just to soothe your preference. Due to its infusion of copper in the memory foam mattress, it gives a cooling relief and also reduces back pain. Individuals are looking for an easily purchasable and usable product, incline towards Layla Mattress. The mattress is best for people who:
Loves soft or firm mattress
Warm sleepers
Couples
Partners with kids
Old age people
Average and light weighing people
Layla Mattress as per sleeping positions
Side sleeping positions:
People who prefer sleeping sideways must prefer Layla Mattress for their next purchase. It gives enough support to the shape of the body, especially the hips and shoulders. The body pressure reduces at these pressure points. As per your preference for more or less sinking, you can use either the firm side or the soft side of Layla's memory foam mattress.
Stomach sleeping position:
Hips tend to sink in in most stomach sleepers. In case you are a lightweight sleeper, you can use the firm side of the mattress. It will provide you with more support and keep the spine aligned with that of the head, neck, and hips.
Back-side Sleeping Positions:
Being a heavy person, people prefer sleeping on their backs. Layla mattress is not advisable for burdensome weighing individuals. However, it can be a preference for light sleepers. As per individual requirement, one can quickly flip the mattress from soft to firm side. For back sleepers, the softer side of the bedding will sink in.
Combo sleepers:
Because of motion resistant feature in Layla's Hybrid mattress, it is easy to move around without disturbing the other person. Couples sleeping with their kids can also prefer this as kids tend to move around in almost all directions.
Pricing of Layla Mattress as per the Size of Bed
For Memory Foam Mattress:
| | | | | | |
| --- | --- | --- | --- | --- | --- |
| Twin | Twin XL | Full | Queen | King | Cal King |
| $449 | $549 | $749 | $849 | $949 | $949 |
Every family prefers their bed to be of a particular size. Some prefer a twin size while another may prefer a king-size bed. Accordingly, Lalya's Mattresses come in various sizes keeping in mind the demand of its customers. These mattresses are available in a wide variety of ranges depending on the size of the bed. The price of the mattress is given above as per the size of the bed. 
For Hybrid Mattress:
| | | | | | |
| --- | --- | --- | --- | --- | --- |
| Twin | Twin XL | Full | Queen | King | Cal King |
| $999 | $1099 | $1299 | $1399 | $1599 | $1599 |
The price of Layla Mattress for memory foam is lower than that of Layla's Hybrid Mattress. It is because of the material and quantity of foam. The hybrid mattress is the combination of both innerspring and foam and requires specialized technology for its manufacture. Thus, the overall costing also goes higher with the production cost. However, a lot of offers and discounts are available during different seasons.
People purchasing mattresses can also add other bedding accessories. When there is a purchase made for a few products together, it gives more savings to the total cost.
Competitors of Layla's Mattresses
Since Layla offers its services and products on the online platform, it is evident that potential buyers will also look at similar products from different brands. So, let us see what other brands are offering in terms of the mattress and its features:
Unlike Layla, Nectar mattresses are an all-foam mattress. In simple words, the beddings of the brand Nectar are mostly foam-based, two memory foam layers and one transitional layer which is of foam as well. As per the firmness scale, it scores 6.5. However, they have memory foam mattresses as well. Nectar, too, gives a luxurious sleeping experience. The beddings of Nectar are pain relievers and are sink-in ones. Thus, they are perfect for people who side sleep. Nectar products are quite similar to Layla's while considering the soft side of the mattress.
Another competitor in the same sector is the Casper mattress, which manufactures both foam and hybrid mattresses and is preferred by side sleepers. However, their mattresses cannot be flipped. It includes polyfoam layers in between memory foam and the base of high density. As per the firmness scale it scores 5 points and is firmer than Layla's product.
The above comparison suggests that every purchaser must have a thorough insight before investing in one. Since all the competitors manufacture a similar product, they also try to inculcate their own unique features to distinguish them from the other. Thus, before your next buy, analyse each of them separately and go for the one that suits your requirements.
Added features of Layla for Customer satisfaction
Due to the presence of a lot of similar brands, Layla is always looking forward to achieving positive customer feedback. They have included a lot of added features for their potential buyers:
The products are available on the official website.
Along with mattresses, they also offer pillows, blankets, sheets, etc.
They have monthly payment facility for buyers who prefer EMI.
The shipping of purchased products reaches within 6-9 days for the hybrid mattress and 1-3 days for a memory foam mattress.
The mattress has a 10-year warranty.
In case of any anomaly, they also provide a money-back guarantee but within a span of 120 nights.
Pros and Cons of Layla Mattresses
To give the readers a clear and distinct idea on the positive and negative features of the Layla mattresses, the list is mentioned below:
Summary
The mattresses of Layla are easily to flip from one side to another. One side is soft, and the other hand is firm, allowing people to enjoy the luxurious feel as per the required firmness. The characteristic features of Layla mattress specialize in a pain reliever, cooling effect, and anti-microbial properties.