Whether you are a professional woodworker or a woodworking hobbyist, you need the right set of tools to get the work correctly done in your upcoming project.
And yes, one of the must-have tools is the dovetail jig. A dovetail jig allows you to make precise joining points when you don't feel like using intrusive hardware in joining two pieces of wood at a right angle.
The ability to make accurate, elegant and non-play joints without the need for fasteners delivers a streamlined look at your output.
In today's article, we are going to unravel the 11 top models the market holds for you. Why not take a walk with us across our hand-picked options?
11 Dovetail Jig Reviews
#1 PORTER-CABLE 4216
This premium-quality unit comes fully assembled for use straight out of the box. The jig features sandpaper-backed locking bars that offer an excellent grip to wood for more precise output. The ability to accommodate stock of 1/4 inch to 1-1/8 inches thick means that it suits different project's needs while the depth gauges allow you to customize the bits with ease without the need for measurements to help save time.
Multiple Templates
This pack comes with three templates for different cutting needs. Template 4211 is perfect for designing half-blind, sliding and the rabbeted half-blind dovetails while template 4213 is for box joints and through dovetails. Template 4215 turns handy when you want to cut the mentioned joint types in smaller sizes. The wide variety of templates means that you will be able to make elegant and reliable joints for the windows, drawers, and door frames.
Robust construction
The templates are of premium aluminum material that will not catch rust to ensure longevity. Also, the single-piece steel design means that the unit is generally among the few options in the market that are made to last for years to come.
Instructions
If you have never used a dovetail jig before, it is no doubt that making the proper alignment and adjustments can be quite complicated. With this in mind, PORTER-CABLE 4216 Super Jig comes accompanied by a set of comprehensive instructions that provide a step-by-step guide on how to perform different applications-no more relying on guesswork!
Pros
Solid and well-made unit.
It gives precise joints.
Cons
Not the best option if you want to make traditional joints.
#2 Leigh Super 12″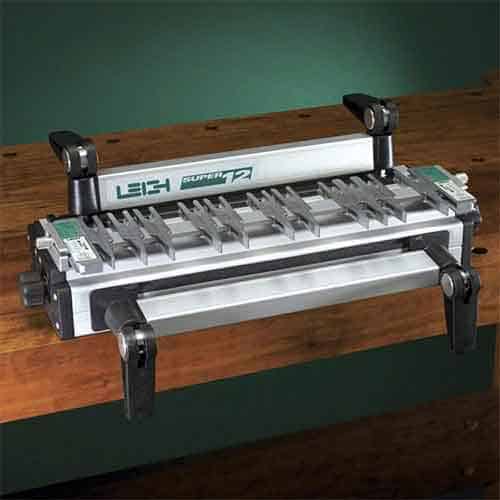 Leigh Super 12" Dovetail Jig is yet another great option that will help you make smooth and beautiful cabinet corners in no time. The unit comes with a machine precision template that gives you accurate cuttings to ensure that you get professional results in every attempt. The sturdy construction is also among the features that will make you admire the services of this unit.
Easy Adjustment
The E-bush feature allows for accurate adjustments for fit while the pin wrench lets you customize the settings. Leigh Super 12" Dovetail Jig also features a unique locking nut that makes fastening the E-bush a more straightforward task.
12 inches wide
This dovetail jig goes with a workpiece with a width of up to 12 inches. This feature means that it can go with wider workpieces as compared to most of the models on the market. In other words, you don't have to cut your workpiece for it to fit in the unit; all you need is to adjust the jig to the size of your workpiece for more even dovetail distribution. Also, the broader design means that you can work on multiple workpieces in a single pass to save time.
Non-slip Surface
To ensure accurate joints, you need to ensure that the workpiece remains firmly held in place as you cut. And yes, this explains why this dovetail jig features a non-slip clamp surface. The cam action clamps pair with the aircraft-grade aluminum clamp bars to ensure that the wood remains tightly in place as you work on it.
Pros
The pack includes a user manual and an instructional DVD.
It is easy to adjust.
It gives consistent quality.
Cons
Assembling the unit is quite a hassle.
#3 Keller Dovetail System 135-1500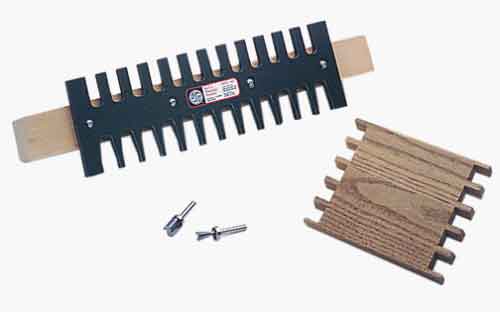 This dovetail system measures 15 inches wide to hold more than one workpiece at a go. The unit comes with high-precision templates that take wood with a thickness of 1/8 inch to inches. This feature makes the equipment a great suit for making cabinets, drawers, and other small and midsize projects.
Versatility
Whether you want to cut variable-spaced, classic, compound-angled, curved, obtuse, or acute dovetails, this jig is specially designed to offer such versatility. The jig also allows you to cut the box and knuckle joints for the drawers and cabinets. The high versatility means that it should be a perfect suit for any hobbyist or professional woodworker.
Lightweight
Although it comes with a durable construction, this back-to-back dovetail jig features a lightweight design. This design makes it easy to transport the unit hence perfect for those dealing with on-site projects. The tool also fits in nearly any workspace.
Straightforward design
The simple design of this unit makes it easy to set up and use. However, to ensure that you get the best value out of the jig without relying on guesswork, Keller Dovetail System comes with an easy-to-understand manual that provides a guide on how to assemble the tool and carry out different operations.
Pros
It is easy to assemble.
The instructions are understandable.
The material is durable yet lightweight.
Cons
The box joint method is pretty complicated to use.
#4 PORTER-CABLE 4212
Just like its earlier-reviewed sibling, this dovetail jig features robust steel base construction and a sturdy aluminum template. The rugged construction means that the woodworking equipment will stand the test of time even with heavy abuse. I mean, if you are looking for a reliable dovetail jig for everyday use, PORTER-CABLE 4212 12-Inch Dovetail should hardly disappoint.
Two Templates
This option comes with two aluminum templates. Template 4211 provides half-blind, rabbeted half-blind and the sliding dovetails while the other template (4213) is for through dovetails and box joints. The ability to deliver a wide range of cuts suits more projects making it a versatile model.
Steel base
The single-base steel design comes fully assembled to save you the hassle of setting up. Furthermore, this design allows for easy clamping or bolting of the unit on nearly any workbench to ensure the stability of the tool.
Heavy-duty cam clamps
To ensure perfect preciseness when cutting, this jig features high-quality heavy clamps. These clamps hold the workpiece firmly in position when cutting to guarantee you more professional results. The dovetail jig also features a non-sliding clamp surface which eliminates movements of wood when cutting the dovetails.
Pros
Easy to clamp or bolt on a workbench.
It accommodates thicker stocks of up to 1-1/8 inches.
The template alignment guides ensure a straightforward setup.
Cons
Some users claim that the unit loses its ability to hold the wood in position hence it needs more and more exertion on the clamps.
#5 Woodhaven 7660
If you are a woodworker who is highly committed to half-blind dovetail joints, this premium jig should turn your ideal work companion. Unlike other jigs that come with multiple templates, the guide of this unit is constructed into the steel base. This property helps to prolong the service life of the jig, offers exceptional stability, and makes it smaller than other jigs since it only measures 6 x 16 inches. This allows for portability and lets you store the unit without taking much of your workshop space when not in use.
Easy Setup
Since the templates are attached to the base, this tool only requires a little fine-tuning once you pull it out of the box to begin the job. The clamps of the jig are simple to adjust while the clamp pads add convenience when using with workpieces of varying sizes since they allow you to customize where you exert the holding power.
Single Carbide Bit
Woodhaven 7660 Dovetail Jig comes with an individual carbide router bid. The carbide bit allows for easy height adjustments using the simple control knobs located at the front of the jig depending on the thickness of the wood you are dovetailing.
Rugged Construction
Considering the sturdy construction that this unit comes with, we are safe to claim that it is designed with durability in mind. The jig is constructed from a combination of top-grade aluminum and high-quality Phenolic Resin to deliver service that can last for years.
Pros
The sliding clamp pads deliver tremendous holding pressure.
The unit features an extremely durable design.
It delivers precise half-blind dovetails.
Cons
It is less versatile since it only cuts half-blind dovetails.
#6 INCRA I-BOX
This unit combines functionality and elegance to bring exceptional value to any home or workshop. The guide of the woodworking equipment is held by a durable aluminum bar. The high-quality guide allows for smooth movement of the unit in the miter slots and works with 3/4″ x 3/8 miter slots. Furthermore, this high-quality jig works best with workpieces with a thickness range of 1/4″ to 7/8″. Although the equipment doesn't have a stock length limitations, we recommend that you use pieces with a maximum length of 16 inches.
Revolutionary Design
The first thing you are likely to notice about this jig is that it comes with an advanced design. The state-of-the-art design makes setting up the unit easy, offers greater dovetailing versatility, and is safer as compared to the conventional dovetailing jigs. The design also allows you to set it up on a router table or table saw.
Reversible Design
Another spectacular feature about this woodworking equipment is that it features a reversible design that allows you to dovetail joints using any side of the cutter. This design offers greater convenience when working.
Instructional DVD
Although the tool is easy to use, it comes with an instructional 1-hour DVD that provides comprehensive guidance from setting up of the unit to performing advanced decorative joinery. Therefore, if you are a beginner, you will have an easier time learning to set up and use the model.
Pros
The unit is pretty hefty to minimize vibrations.
The handy DVD makes using it easy.
The construction is solid.
Cons
Lining up the sides can be quite challenging.
#7 Rockler Complete
This high-quality unit is specially designed for cutting conventional dovetail jigs. The narrow range of cutting scenarios makes it a good selection for the hobbyists and woodworkers who deal with specific joints. The newer jig version is tailored to offer precise and neat cuts for your upcoming project. Each of the two templates of the unit cuts 1/2″ to 1-1/8" thick dovetailed joints.
Easy Clamping
One of the fantastic features about this dovetail jig is that it is easy to hold your workpiece in position. The unit allows you to clamp the wood directly onto the tool without the need for extra vises or clamps to keep it together. The jig works with woods with a width range of 1/2″ to 3/4″ which means that it will work with most pieces although not as much as some models.
Router Bits
This dovetail jig also comes with three router bits. In other words, if you have a compatible router in your workshop, you can begin to make dovetail joints as soon as the jig comes out of the box. The jig clamps easily onto nearly any workbench or table and allows for easy adjustments.
Double-Sided Template
Although this unit doesn't come with many templates as some of the models on the market, the template of the jig is double-sided to allow for more versatility when making dovetail jigs. The templates are of high-quality material; hence they will deliver consistent cuts for many years to come.
Pros
It has a measuring guide for accurate adjustment of every piece.
It has an effective dust collection system.
It comes with three router bits.
Cons
The equipment doesn't work with every router.
#8 General Tools 861
If you are a beginner looking for a low-budget option that can make precise joints, this dovetail jig is made with you in mind. The one-piece aluminum construction ensures a longer service life and higher resistance to corrosion. The jig comes with a 14-degree 1/2″ router bit that goes with a hand or table router. The unit is designed to cut the basic half-blind and through dovetail joints.
Aluminum Construction
Unlike other conventional jigs that have steel construction, this jig features aluminum construction. Although the aluminum material doesn't offer as much strength as the steel, the unit should work fine for those that cut dovetail joints from the softer woods.
Self-Aligning
Since the jig is designed with beginners in mind, it comes with a self-aligning feature. This feature means that you won't have to worry about messing up with the piece provided that you follow the outline with your router- making a high-quality dovetail point has just gotten simpler!
Convenient Design
Another benefit of this unit is that it is more lightweight as compared to the majority of the dovetail jigs of its caliber. This feature makes carrying it to your job site easy while the compact design means that storage is a breeze when the unit is not in use.
Pros
The double-sided design ensures efficiency
The clamps offer high stability.
It creates a variety of dovetail joints.
Cons
It doesn't give perfect results for some joints.
#9 LEIGH RTJ400
This joinery jig is specially designed for making accurate through, half-blind, and box joints. The template of the unit is of top-class aluminum material. Hence, you don't need to worry that it may begin to rust after some time of outdoor use. The aluminum material guarantees you high-quality joinery in every attempt.
Versatile Design
With the ability to make nine sizes of through dovetail, three sizes of half-blind dovetails, and four sizes of half-blind dovetails, this dovetail jig gives you limitless options that suit different carpentry needs.
Cam Clamps
The advanced cam action clamps ensure the stability of the wood piece as you work by holding it firmly in position. This allows you to enjoy the error-free experience when cutting dovetail joints. The clamps are easy to adjust depending on the size of the piece.
Wider Design
This dovetail jig goes with a maximum wood length of 16 inches. This means that you can work with multiple pieces in a single adjustment. The jig delivers a thickness range of 0.5"-1" for half-blind dovetail and 1/8"-1" for box joints and through dovetails.
Pros
The clever design produces excellent results.
The aluminum construction is durable.
The manual is well written.
Cons
You may have to go through the manual thoroughly before you begin making your final product.
#10 Leigh Super 18″
This unit boasts an extraordinary joint making capability with the ability to make accurate joinery joints with ease. The revolutionary E-Bush feature allows you to change the active diameter of the unit which changes the fit of finger joints for added convenience. The adjustable one-piece fingers can be easily customized to give any joint pattern.
Size Varieties
Apart from the specific 18-inch model, Leigh's super dovetail jig is also available in two other sizes. The 12-inch model suits those with limited workshop space while the 24-inch dovetail is perfect for those that work with longer workpieces.
Simple Adjustments
This dovetail jig comes with cam clamps that are easy to customize to fit the size of the piece. The aluminum clamp bars pair with the non-slip material on the clamping surface to prevent accidental movements of the workpiece when making dovetail joints.
Premium Construction
With the sturdy aluminum construction, this dovetail jig should be an ideal option for anyone in need of a dovetail jig that can withstand everyday use when providing consistency in making dovetail joints.
Pros
The clamping bars are lightweight.
It comes with four mounting screws.
The clamp system holds tight.
Cons
It is not the best option for low-budget hobbyists.
#11 PORTER-CABLE 4210
Final and very important on the list is this professional-quality dovetail jig by Porter-Cable. Just like the other Porter models. This jig comes with three high-quality templates that let you cut six dovetails inclusive of the miniature dovetails for the smaller projects. The cam types hold the workpiece against the non-slip surface for more accurate joints.
Stability
For you to ensure precisely cut joints, the balance of the jig and wood remains vital. PORTER-CABLE 12-inch option can be easily mounted onto nearly any workbench or table for shaky-free use.
Greater compatibility
If you deal with wood pieces of different widths, this jig suits wood pieces measuring between 1/4″ to 1-1/8″ wide. The tremendous width compatibility means that the unit can suit most projects hence allowing for versatility.
Easy setup
Whether it is your first time to use a dovetail jig or not, this jig is specially designed for more straightforward installation and use. Furthermore, it comes with an instructional manual that will get any beginner producing professional-quality joinery joints in no time.
Pros
The cam style clamps are durable.
It is compatible with any router.
The templates are easy to set up.
Cons
The unit may slightly shift or rare occasions when in use.
Frequently Asked Questions
How do you choose a dovetail jig?
To choose the right dovetail jig for your project, consider the construction, the overall quality, versatility, adjustability, stability, and the weight of the unit.
What are dovetails made of?
All dovetail jigs have metal construction. However, most of them are constructed from steel and/or aluminum materials. If you deal with hardwood steel construction is ideal while aluminum material suits softer woods.
Which are the best dovetail jig brands?
It's essential to consider the features of the dovetail rather than the brand when choosing the right one for your needs. However, the PORTER-CABLE and Leigh brands are the most popular.
Wrapping-It-Up
From the reviewed selections, it's clear that different models suit different project types.
Therefore, consider the features of the dovetail jig to ensure that it is the perfect option for the target project.
Personally, I would consider buying one of the PORTER-CABLE models since they come with three templates for versatility, produce high-quality dovetail joints, and go with any router.
Last update on 2023-09-19 / Affiliate links / Images from Amazon Product Advertising API